Product Description
The double-wall heat shrinkable tube is mainly used to protect the components from corrosive gas and liquid from outside. The double-wall heat shrinkable design includes an outer layer of PTFE tube, and then a fusible FEP tube lining. The melting point of FEP is much lower than the shrinking temperature of PTFE, so when heated, FEP will melt and cover the components first, and then the PTFE tube will shrink and wrap the FEP. After cooling treatment, FEP solidifies and tightly combines with PTFE and components to form a tight protective layer to seal the entrance. The maximum operating temperature of the packaged components is approximately 210°C (410°F).
Application
The application range of double-wall heat shrinkable tubing includes wire and cable harnesses, connectors, joints and any electrical terminals that may need to be protected from damage by moisture or corrosive liquids.
Product Specification
Place of Origin: China
Brand Name: YOZONE
Model Number: tsmcay-11
Pipe Material: 100% Virgin PTFE & FEP
Material brand: Daikin chemical, DuPont. Dongyue & Chenguang (Domestic)
Specification: customized.
Length: Customized
Thickness: customized,
Shape: Round
Color: Transparent or Black (Designed for hiding the detail of product)
Tolerance: ±0.05 mm
Tensile strength: 10.4Mpa (different specification are different)
Working Temperature: -200 - 205°C
Chemical Resistance: stable in most medium.
Electrical Property: Insulation Resistant
Certification: UL, CE, FDA, RoHS, REACH.
Standard: ISO9001:2008.
Test: SGS passed
Sample: Free
Payment: T/T
Service Life: Depends on environment, please kindly consult our engineers.
Application: Petroleum transportation, food procession, electrical and etc.
Supply Ability
20000 Rolls per Month Plastic PTFE Dual Wall Heat Shrink tube
Lead Time
---
Packaging & Delivery
Plastic PTFE Dual Wall Heat Shrink Tube into Spool in Carton or Wooden Pallet
Port: Tianjin, Shanghai, Shenzhen, Qingdao.
PTFE/FEP DOUBLE-LAYER Shrink Tube:
Heat Shrink Tubing Offering a Tight,
Moisture-Resistant, Wear-Proof Encapsulation
Outer tubing of PTFE shrinks for tight fit when heat is applied.
Inner layer of FEP melts and flows to encapsulate parts.
PTFE/FEP heat shrink tube is constructed with an exterior of heat shrink PTFE and an inner layer ofFEP. It is easy to apply, and is designed to provide a tight, moisture-proof bond over wires, cables, connectors, splices, terminals, etc.
The PTFEshrinks tightly overinserted parts when the covered section is heated, while the FEP melts and flows into a solid or near-solid encapsulation with a fit so tight that it can withstand the most severe stresses involving pull or vibration. We provides all the outstanding electrical, chemical, and mechanical properties of PTFE including a service temperature up to 450°F/232°C. Custom specifications and tolerances quoted upon request.
We are one of the professional manufacturers and suppliers of fep heat shrink tubing in China, if you are interested in our teflon fep tubing,chemfluor fep tubing,fep corrugated tubing,high purity pfa tubing made in China, please contact us immediately!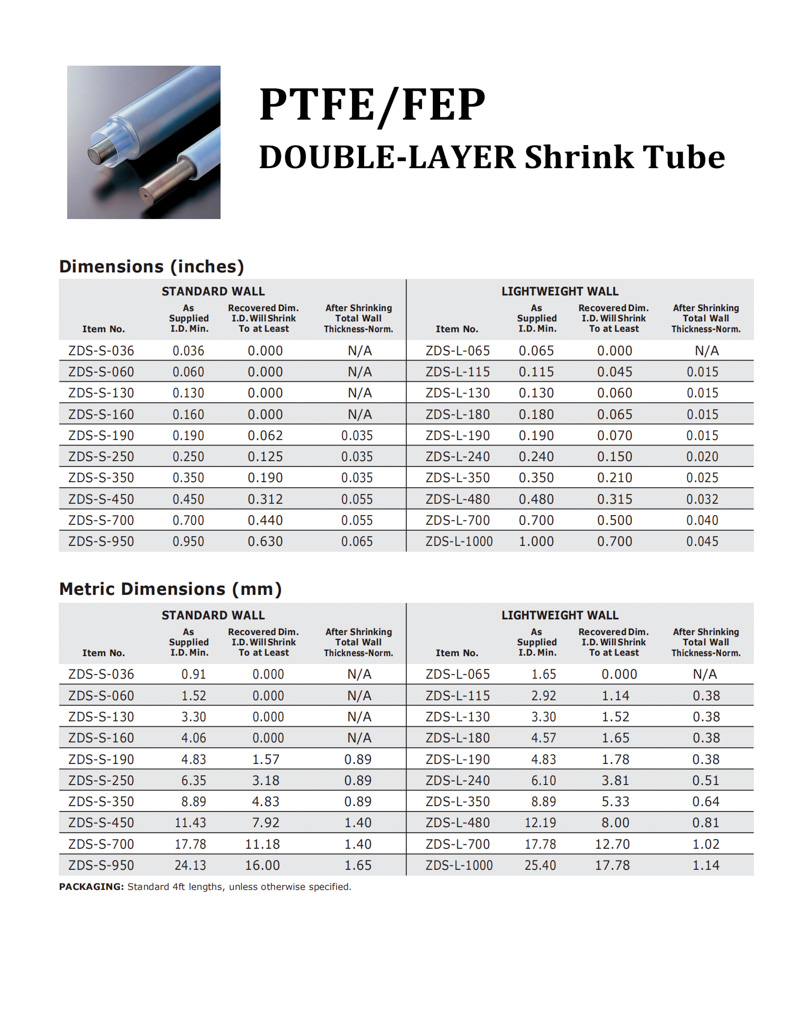 ---