Product Description
We can use a protective cover to protect multiple extrusion tubes. The individual inner tubes can be distinguished from each other by solid pigmentation or color coding from the multi-hose coils protruding from both ends of the tail, so as to avoid installation errors and high replacement costs. The multi-hose system provides a safe and efficient working environment, so that the installation and operation of the tubing are very tidy.
Cover: LDPE, EVA, PVC, TPE, PUR five standard materials to choose from, you can choose according to your needs: flexibility, chemical resistance level, weathering performance, temperature capability, etc.
Inner tube: PTFE currently offers PVDF tubes, FEP tubes, MFA tubes and PFA tubes, with sizes ranging from 2×4 to 8×10. The standard multi-hose bundle is composed of 2,3,4,5,6,7,8,9,10 and 12 independent hoses, providing natural self-supporting, cross-sectional structure.
Key Features of Multi-hose:
- Rugged outer covers
- Chemically resistant, super smooth inner tubes
- Efficient bundling system
- Tailor made product: you decide on the outer & inner tube materials to suit your own application
Availability of Multi-hose:
- Supplied on spools or boxed loose
- Standard maximum overall Ø50mm, specialities possible
- Standard continuous lengths: 25, 50 & 100m, longer lengths possible
Typical Applications of Multi-hose:
- Specialist pneumatic systems
- Automotive production equipment
- Dentistry apparatus
- Multiple chemical dosing lines
Product Specification
Place of Origin: China
Brand Name: YOZONE
Model Number: tsmcay-13
Pipe Material: 100% Virgin PTFE
Material brand: Daikin chemical, DuPont. Dongyue & Chenguang (Domestic)
Specification: 3 - 160 mm, customized.
Length: Customized
Thickness: 0.02 - 4 mm, customized,
Shape: Round
Color: White, transparent black, red, yellow and etc.
Density: 2.16 - 2.3g/cm³
Tolerance: ±0.05 mm
Tensile strength: 20Mpa (different specification are different)
Working Temperature: -180 - 240°C
Chemical Resistance: stable in most medium.
Electrical Property: Insulation Resistant
Certification: UL, CE, FDA, RoHS, REACH.
Standard: ISO9001:2008.
Test: SGS passed
Sample: Free
Payment: T/T
Service Life: Depends on environment, please kindly consult our engineers.
Application: Petroleum transportation, food procession, electrical and etc.
Supply Ability
10000000 Meter/Meters per Month Plastic PTFE Multi-hose
Lead Time
---
Packaging & Delivery
Plastic PTFE Multi-hose into Carton and Wooden Pallet
Port: Tianjin, Shanghai, Shenzhen, Qingdao.
We are one of the professional manufacturers and suppliers of ptfe teflon tubing in China, if you are interested in our ptfe tubing,oem ptfe teflon tubing tubing,ptfe teflon tubing pipe,high purity ptfe teflon tubing made in China, please contact us immediately!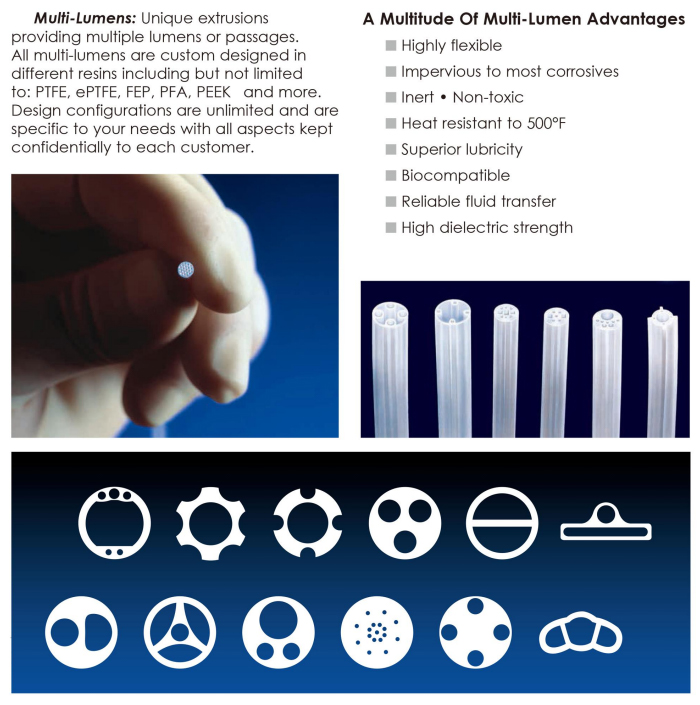 ---